Sunday, March 31, 2013
"
US media reports systematically exclude both the perspectives of "the other side" and the victims of American violence. Media outlets in predominantly Muslim countries certainly report on their plight, but US media outlets simply do not, which is one major reason for the disparity in worldviews between the two populations. They know what the US does in their part of the world, but Americans are kept deliberately ignorant of it.
"
Glenn Greenwald

(Source: Guardian)
Sunday, March 24, 2013
Each star is a US base. But just to be clear, Iran is the one that is threatening us.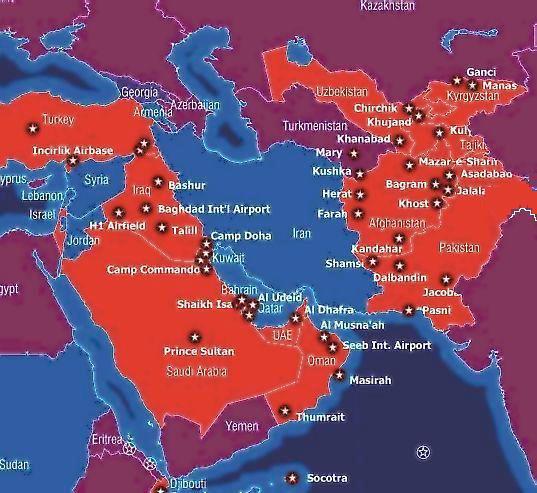 *simply click on the map above for article originally posted on 12/12/2011 :)
Tuesday, March 12, 2013
"
If Corporations Don't Pay Taxes, Why Should You?
"
Robert Scheer

(Source: truthdig.com)
Tuesday, March 5, 2013
Friday, March 1, 2013
"
Bradley Manning is my hero.
"
Agavebuzz
Wednesday, February 27, 2013
Our buildings can only be as tall as their bricks are strong.
Our civilisation is only as strong as its ideas are true.
When are buildings are erected by the corrupt, when their cement is cut with dirt, when pristine steel is replaced by scrap - our buildings are not safe to live in.
And when our media is corrupt, when our academics are timid, when our history is filled with half-truths and lies - our civilisation will never be just. It will never reach to the sky.
Our societies are intellectual shanty towns. Our beliefs about the world and each other have been created by the same system that has lied us into repeated wars that have killed millions.
You can't build a skyscraper out of plasticine. And you can't build a just civilisation out of ignorance and lies.
- Julian Assange
"
You don't talk about your own crimes; it is one of those things you learn at Yale and Princeton and Harvard.
"
Noam Chomsky
Tuesday, February 26, 2013
"
The P5 plus 1 talks start on Iran's nuclear program tomorrow. How many Americans know that the Iranian nuclear program was started with U.S. encouragement 40 years ago?
"
William O. Beeman
Monday, February 25, 2013
"
It's important, particularly for Americans, to recognize that virtually everything that Israel does is with the decisive support, often direct participation of the United States.
"
Noam Chomsky